Rank:

Abobo

Member since:

May 11, 2003

Last online:

05/18/13 8:45 am PT
This is an entry for the "How to Better Video Games" blog contest.
---
CONSOLE WARS - EPISODE II: ATTACK OF THE PHONES
or, How I Learned to Stop Worrying and Love the Console
---
Consoles are going to die a horrible, horrible death due to pervasive, systematic problems with the structure of the industry. Just as Netflix toppled Blockbuster and the music industry has been crippled by the almighty MP3, consoles are soon to have their backbones broken as they fail to keep pace with changing technology standards.
Well, maybe.
---
Consoles Are Hot From A Business Standpoint
From a developer standpoint, consoles are a dream:
Consoles offer a standardized hardware platform
I can make a game for the XBox360, PS3, or Wii and it is guaranteed to work on any of their respective consoles. The same cannot be said for personal computer software.
Consoles make piracy difficult
You need to have a physical disc to play and, while there are hacks out there, piracy is difficult for the average gamer.
They support traditional distribution models
For over four decades home video game consoles have used the same distribution model. The names have changed from Electronic's Boutique and Software Etc. to Gamestop, Wal*Mart, and Amazon, but the retail packaged game is pretty much the same. While online services like Steam and console stores are making headway, blockbuster titles like franchise sequels for Gears of War and Grand Theft Auto and are still primarily sold through retail copies, and consoles account for the vast majority of those sales.
Consoles are simple
Not everyone is capable of owning and operating even a budget gaming PC. Running the latest titles on a PC typically requires some degree of savvy to keep drivers up to date and troubleshoot issues; consoles just work. You put in the disc, turn it on, and it works: No installation necessary.
Console manufacturers will hang on to the current model for as long as possible because it is very profitable, but times are changing. Mobile phones, laptops, tablet PCs, and even televisions in some cases are increasingly powerful, able to run flash games and more - sometimes with exclusive titles, even. Certainly they lack the power and capability of modern consoles, but then there was a time the music industry scoffed at the MP3, believing its lower quality no threat to the high-fidelity of the CD.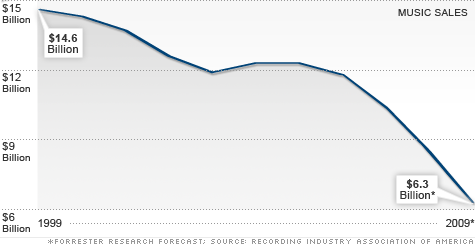 Total revenue from U.S. music sales (RIAA)
Digital distribution is less expensive than retail, eliminating packaging and shipping costs, and it is not being embraced as rapidly by consoles as it is by personal computer providers. While digital distribution opens up the same piracy issues that sometimes affects PC games, it is getting more and more effective.
---
Consoles at risk
Make no mistake, portable devices and PCs pose a long-term threat to consoles. It becomes increasingly difficult to convince the average consumer to buy additional devices when they already own hardware capable of playing games. Consider that Angry Birds has sold 140 million copies through the first quarter of 2011 (Source). By contrast, Halo 2 sold eight million copies.
Angry Birds is no Halo 2, but the industry cannot afford to be myopic. If a gamer is playing Angry Birds, they're not playing Halo, Crysis, or whatever. As alternative hardware platforms become more attractive, modern DRM (Digital Rights Management) more effective, and digital distribution more accessible for those mediums, the threat to consoles increases. You might have heard of OnLive, which allows consumers to stream any game in its library - currently over 100 including titles like Batman: Arkham Asylum and Homefront - over a small media device using a broadband connection. It's "Cloud Gaming," and it's a great idea, and all for a monthly subscription fee of $9.99. That said, it debuted in 2009 and has yet to gain widespread adoption for a number of reasons, including a limited game library, potential latency issues, and video artifacts from digital compression for streaming. Still, it's supposed to be pretty amazing.
OnLive Game Service
---
Make gaming history: Make consoles free(ish)
All this doom and gloom might have you thinking I don't like consoles, but it's just the opposite: Consoles are still the best platform for game designers. They represent tens of thousands of jobs and billions of dollars in hardware, software, and peripheral sales. However, due to the aforementioned reasons, the format is aging.
So give them away.
Literally, give consoles away. Yes, for free. Alright, well, sort of free.
Ever buy a cell phone? You have two basic options: Buy an expensive phone outright and pay month-to-month from a service provider, or get a multi-year contract and select from one of the "free" phones. You basically pay for the phone over the life of your contract, which is typically two years. By that time the phone is often outdated, you drop it off with the provider for recycling (hopefully), and get a new phone and a new contract.
Pricing Model Examples:
The contract requires the purchase of a certain number of games at full retail price similar to a Columbia House or Disney Club contract, meaning you need to buy, say, one game each month for one year, or twelve games within a one year period, via a particular retailer.
The contract requires you subscribe to a monthly service like XBox Live that activates the console. You are contracted to a certain number of months of the online service.
The console requires users login before it will work, and you pay for the login ID. This way if your subscription lapses you can pass the console along to another player, or transfer your contract.
You buy the console outright and pay for titles in the traditional model.
It is almost surprising that this model hasn't already been adopted by the video game industry, because it fits so perfectly. Not only that, it works with current brick-and-mortar game distribution AND digital distribution.
The prior suggestions are really just additional options, but it makes consoles more affordable, particularly for lower-income gamers, and represents a major strategy shift in pricing for the video game industry. Consider: XBox Live is about $10 a month, would you pay $20 with a two-year contract if the console were free?
Think about it.
---
-Disclosure-
Opinions and speculation of and by Bozanimal are his own and not those of Gamespot.com or its affiliates. Bozanimal is not a Gamespot employee, and is not affiliated with any gaming companies in any way.
Several links within this article may lead to external sites. Neither Bozanimal nor host Gamespot.com or affiliates are responsible for the content of those sites.
@Bozanimal you might want to bust out that tinfoil hat Boz... Check this out.