Rank:

Karnov

Member since:

Dec 9, 2003

Last online:

04/08/13 7:54 pm PT
Bringing you a post monday night because... well, because I can xD. In all honesty, I am stuck at my grandmother bored out of my mind (Should be doing homework, but can't), so I decided to give you guys a blog just to get my mind off of stuff I guess xD. I don't know what it is today, but I feel rather depressed for some reason. Might be the weather or the lack of sleep I had last night, but I am hoping that I will be better in the morning once my math test is done
. I won't bore you with my guess as to why I feel this way today, but it might be because my grandfater had surgery again today and last time he did, it was almost vital. I am sure he fine, but it might have somethign to deal with it. There was one positive, which was I did get some writing in today... and in Bio ironically enough.... it was just strange really. I get into Bio, and one of my lab partners decided to sit next to me (mind you, it's a girl I have been kind of getting to know who is kind of cute to be honest) and she begins to ask me about how my weekend went. I mean, first day I met her, girl came off as a complete *insert mean girl name here*, but I think she is starting to grow on me after the past couple of weeks since I be to seem the only one in the class who talks to her and is able to have a conversation with her. Then again, last time a girl like this got into my life, it was the girl with the complete Haruhi Complex that used my freshman year to recreate the show... I am sure that won't happen again of course xD. Anyways, instead of making any moves on her or anything, I just decided to tell her that I wasn't feeling so hot today and that I wouldn't be in lab today, but I would see her on wensday to talk to her and possibly ask her to meet me to study together over the weekend or something. I know it sounds like I am trying to get with this chick, but I am actually not. She is just a girl I am just trying to get to know and so happens to be cute... which still sounds stupid and makes me sound even more like I am trying to get with her, but I am more out to try to become friends with this girl. She seems kind of geeky and she and I actually agree on a lot of the stuff we talk about, so I wouldn't mind being a friend of hers just to have someone to talk to other then my usual crowd. Call it me getting loney, but it's really whatever to me...
Anyways, there was something else I wanted to talk about. I have been having strange deams again lately, and not like the ones while I was playing throught Catherine, but just odd dreams in general. It might just be easier if I just break them down:
1) The first night of these dreams (Being Friday) was actually the most "normal" of my dreams. I had a dream that I could see dimesional gates or portals no one else could, and could see and interact with the creatures that came out of the portals. I don't remember anything that can be considered a plot, but some of the monsters that came out did look like creaper versions of some pokemon, although I don't remember exactly which ones. Like I said, dream was kind of standard and although it could be a interesting story idea, the set up reminds me a little to much of how Bleach starts off, but then again, this might just be me xD.
2) The next dream I had was on Saturday Night and this one was the strangest one I remember to date. So I am coaching my team and I find out they threw out a game for cash (Which would never happen at a high school level, but just go with it xD) and it must of been a big game because I got pissed. I am so angry with them, I litteraly say, "That's it... these boys are going to get it..." and as if I was Great Teacher Onizuka, I take a Katana out of my closet, put on one of those Russia Hats that I have never bought in my entire life, and take the Kangaroo in my back yard (Apprantly, I own one as a pet or something) and say "May the chase begin"... this was fallowed by a rat-race like night with me chasing these players inside this Kangaroo's pouch and this Kangaroo was pretty boss. I mean, the thing could JUMP ON WATER and Jump over buildings... I mean, these kids didn't stand a chance. I went to all sorts of places: Africa, Russia, New York... I ended up waking up at like 3 in the morning thinking WTH did I just dream up? I mean... I don't even know if that would make a good story. Seems more like some strange anime skit to me, but it is most definatly one of the strangest dreams I have ever had xD.
3) Not going to lie, kind of want a Kangaroo now xD. Anyways, yesterdays dream was strange, but didn't really top the Kangaroo dream. This dream just focused on me dating this headless girl, who seemed a lot like Celty from Durarara!!!, but there wasn't really a plot to it. It was just me going on dates with her. It was kind of bland, but it would be kind of strange dating a girl with no head. It still isn't the strangest story my mind has shown me when it comes to girls I am interested in...
HAY! I DON'T NEED TO BE REMINDED OF THAT! Ugh... that Vaporeon dream will hunt me forever, wont it 0_0...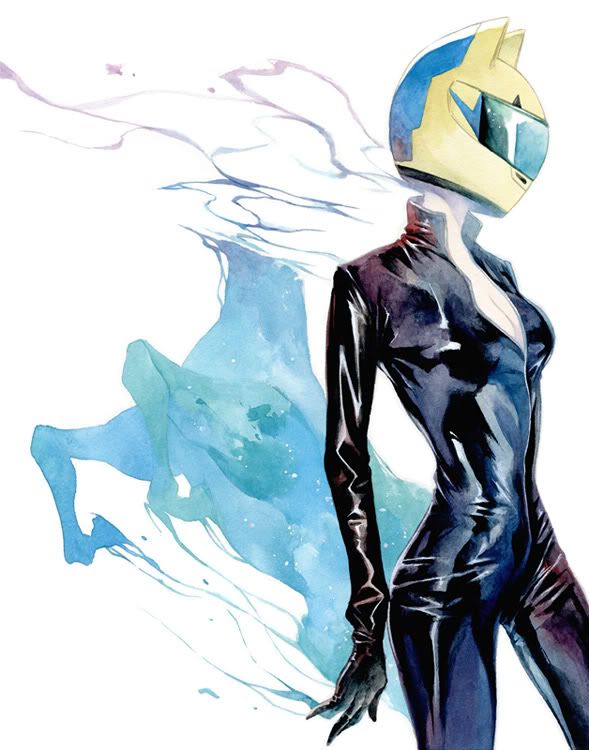 There... much better way to show off art xD. Anyways, I got a math test in the morning, so I am going to bed early this time around. Maybe this time I will have another strange dream to report about, but we won't find out unless I sleep, huh xD? So until next time, stay gold people, and I will see you all next time, which will hopefully be tomarrow
. I think we should end this blog with some good old pokemon art